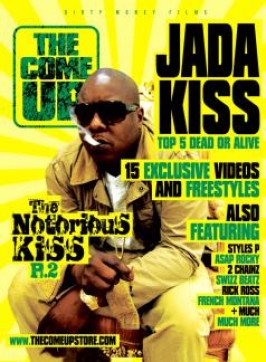 The Come Up DVD | Jadakiss - The Notorious K.I.S.S., Pt. 2
Description



The Come Up's creator and producer, Fendi, spent a year and some change on the low. Some thought the DVD game was dead and that The Come Up DVD had been buried. But it turns out five DVDs later, The Come UP DVD was only loading up the artillery and waiting patiently.

Dropping French Montana & Meek Mill DVDs back-to-back, Fendi put in work with the new school. Then The Come Up struck with "Cocaine Muzik, Part Two: The Movie" a day in the life of Memphis' favorite son. Then they hit even harder with "T.R.U. 2 The Game," an authentic 2 Chainz-sanctioned street DVD from the Codeine Cowboy himself. Now it's time for the death blow... bringing it back to the streets of NY and giving you "THE NOTORIOUS K.I.S.S. PT. 2".

Serving as the followup to the "THE NOTORIOUS K.I.S.S. (RELOADED)" DVD, Jadakiss shot new videos and freestyles you won't see on BET or MTV or any other place than this DVD, including several new and exclusive tracks you won't hear anywhere else either.

Although Jada is in the lab cooking up his next album, that rumored Lox album, and possibly a mixtape, he had time to break away and shoot music videos and freestyles all over New York city, proving the Hood is where is Home is.

- 15 EXCLUSIVE VIDEOS & FREESTYLES

Features Include:
Styles P, A$AP Rocky, 2 Chainz, Swiss Beatz, Rick Ross, French Montana & Much More!
Related Products